About Us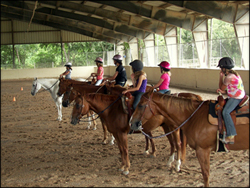 Retama Equestrian Center offers premium customized care, nutrition, and boarding for all horse breeds and riding disciplines. Featuring the perfect blend of all of your favorite disciplines, including Dressage, Western, and Hunter/Jumper, Retama Equestrian Center is the ultimate facility for the discriminating rider.
Retama Equestrian Center offers many different lesson plans for beginner, intermediate, and advanced riders of Dressage, Western, Hunter/Jumper, and Speed Event disciplines. We offer a road map to success while nurturing and producing the next generation of confident, focused, and safe riders.
Owned and operated by Renee Lopez, Retama Equestrian Center features seven barns with approximately one-hundred and forty stalls of 12x24 ft. in size. Located in Selma, Texas, within the San Antonio area, the twenty-eight acres that make up the equestrian facility is approximately one mile west of IH-35 on Evans Road.
With four riding areas; one covered and fully-lit indoor arena, one outdoor and lit all-weather arena, one sandy-plowed arena, and a jumping field, in addition to two round-pens and daily turnout for every horse, Retama Equestrian Center is the ultimate facility for your equine boarding, lesson, and training needs.
Retama Equestrian Center is also located adjacent to Retama Equine Hospital, which provides large and small animal emergency care 24hrs a day, and is also a fully functioning surgical equine hospital.